gothic and romanesque doorways in the church

The doorways and remaining columned niches are spectacular, and most have been extensively restored. LIke many other Romanesque churches, there are human faces, grotesques, and animals carved into drain spouts and on the supports for arches and columns. They are particularly noticeable here, since they are on the ends of most of the drain spouts on the main part of the church.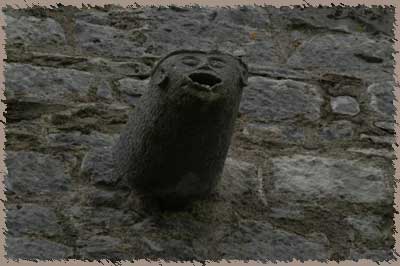 human face on the drainspout, one of many

lovely carvings of a flower on the decorative window copings
There are a few almost Moorish-looking doorways and decorations among the round-headed Romanesque carvings. The red stone of the window framing, doors, and other decorations is dramatic against the gray stone walls.