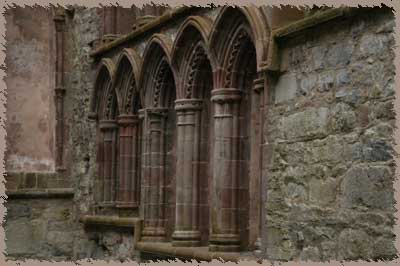 red stone niches in the nave of the cathedral

Ardfert Cathedral is traditionally associated with St. Brendan the Navigator (who was born in the town). It was begun in the 6th century, and a charmng legent about St. Brendan has him initially attempting to build his church on the remains of a fairy mound. As he began measuring, a black crow flew down, picked up his measuring strings, and carried them to another hilltop, the current location of the cathedral.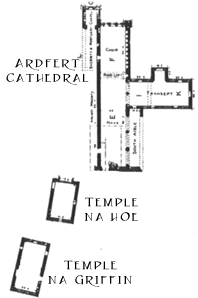 The building today is made up of a medieval Romanesque cathedral with triple lancet windows fromt he gothic style 13th century east wall. It contains pieces of an earlier 11th century church, and also later additions such as the battlements from the 115th century. THe church of build of red and gray stone, and on some places of the walls, much earlier blocks can be seen amongst the repairs and newer construction.
The South transept of the church has been renovated as the visitor's center (this is a Duchas Site) and contains a number of stone pieces, and pre-christian grave slabs and effigies that have been moved here from the rest of the church.
There is a spectacular row of nine lancet windows (tall, thin windows headed with arches, like lances) on the south wall. The gothic style of window was introducted by the Cicsterians inthe 11th century. Decorated doorways abound, including this early red-stone entrance in the transept wall. In some places, the church lookes like was made of two different churches, mixed all together.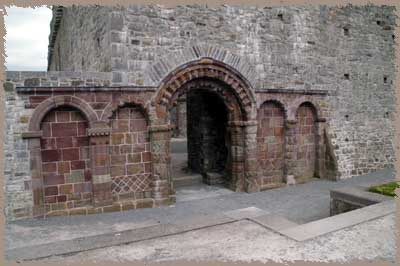 another red-stone romanesque doorway and flanking arches