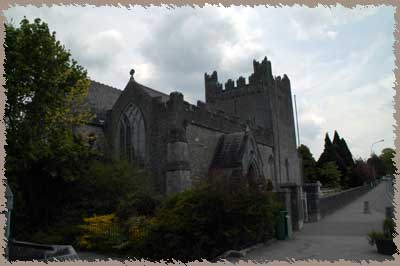 the restored trinitarian priory in Adare village
Adare is a lovely little town, and loaded with interesting churches and a fabulous ruined castle (under restoration). The thatched buildings along the main street may be more geared to attract tourists, but we enjoyed the afternoon in town. The main road through the village passes colorful shops, and a short walk over the bridge reveals two priories, the Adare Manor hotel, and the castle.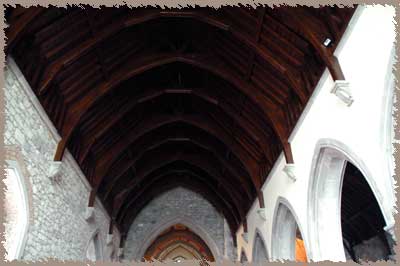 the pegged beam ceiling inside the church

The Trinitarian Priory was founded in 1315 by the Earl of Kildare. It is one of three monasteries in Adare (and Augustinian house is just down the road, in use as a parish church, and a Franscisan monastery that currently lies on the golf course). There has been a religious foundation on this site since about 1230, when a house for the Trinitarians was built by the Fitgerald clan. It is the only house of Trinitarians in Ireland. Triniarians were founded in France with the specific purpose of raising funds to ransom Christian captives taken while on Crusade. The probably arrived in Ireland from Scotland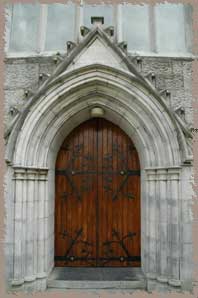 Just across the river Maigue is Adare Castle, an enormous Desmond fortress that afforded protection and rich support for the Trinitarians here. The building was destroyed during the Supressions by Henry VIII but was restored in the last century The main parts of the church are distinctly 19th century in plan. It is called 'Holy Trinity Abbey' and is the local Roman Catholic church.
The cloisters were also restored, as were mausoleums in the grounds. Inside, the church boasts a lovely, dark beam roof and whitewashed walls, while the outside of the building is stolid gray stone with hints here and there of gothic and romanesque arches.