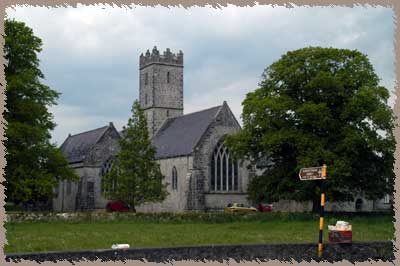 Augustinian Priory, now the parish church

Just down the road, and in use as parish church, is an Augustinian priory, which was founded by the Earls of Kildare in the 14th century. Augustinians remained here until the end of the 15th century. The friary was damaged during the Suppression by Henry VIII, but like it's counterpart, the Trinitarian Friary up the street, it was rebuilt in the 19th century.
The Franciscan Friary (which we didn't get pictures of), is at the far end of the golf course. THe remains are fairly substantial. It was also built by the Fitzgeralds in the 1460s, and the friary was occupied until about 1578. THe friars returned in 1633 and remaind until the next century.

thatched shops and houses along the main street