Near Leamanah Castle is a well-preserved stone burial cairn, Poulnabrohn dolmen. The stone cairn dates from 2500 BCE. This is one of the most photographed tombs in the Burren.

These dolmen graves looked almost like random stacked stone -- here, the capstone sits on two six-foot high portal stones. When I look at this, it seems as if it should be covered in turf, like the neolithic passage graves at Newgrange and Knowth (although on a much smaller scale) There are roughly 70 other tombs in the region.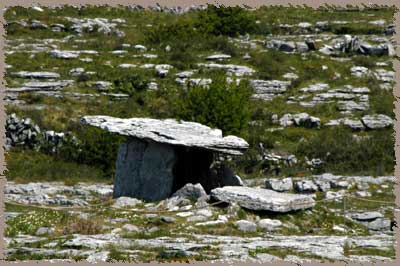 Poulnabrohn dolmen, in the burren in County Clare
Grave goods found in the tomb probably were involved in burial rituals, and include a stone axe, beads, pendants, arrowheads, and an abundance of pottery. Uncremated remains found in the tomb were of a baby, six children, and almost two dozen adults. They were not initially buried here -- most likely they were buried or exposed elsewhere and then moved here over a period of time.