the view of staigue fort through the farmland
Staigue fort is the largest and possibly best preserved of the round forts. The walls are up to 18 feet high, and in some places 13 feet thick. The fort is almost 90 feet cross. The stones are stacked without mortar, like most neolithic structures. It is from the Iron-Age, and dates from the same period as the ringfort at Dun Angus on Inishmore.

Probably built in the first century BCE. These round forts were used for residence, and probably as a central place to put livestock. THere are two chambers within the walls. Inside the the walls, there are inset steps, and you can climb up to the top and look out over Sneem.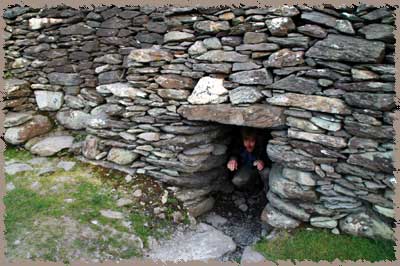 mark coming through the single entrance into the fort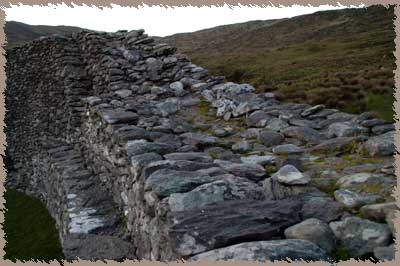 standing on the top of the wall
page
[ 1 ] [ 2 ]