looking down on the bronze-age round fort from the hillside
I wasn't able to find exactly which fort this is -- I believe that this may be the Loher Stone Fort, but we only glimpsed it from the raod while driving. We weren't specifically looking for these neolithic round forts, so finding them was alwyas a bit of a surprise. We tok quite a few detail pictures of the larger forts - Staigue Fort, for instance.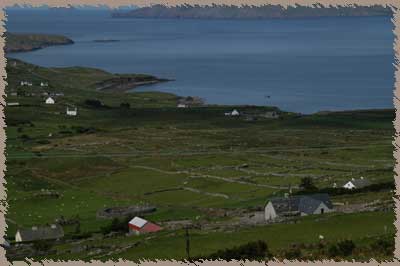 a slightly larger view, showing the lovely coastline of the bay.
It is likely that these forts were the center of settlements, and some are large enough for an entire family group or even larger to congregate in (with all their livestock) if attacked. Most of these forts date from the bronze age