the much-restored outer wall of the stone fort
Cahersiveen is a lovely little town -- usually passed through by the enormous tour busses thundering around the Ring of Kerry. We succumbed and did the drive -- although it took us three days or so and we tended to stop at the "non-tourist" stuff more often. There's a reason that the Ring is a populate tourist destination -- the scenery is beautiful

The fort itself is mostly a reconstruction, and almost appears "new". The walls are stepped, and you can climb up to the top easily enough, looking out over the countryside. The walls have no mortar -- they are simply stacked stone, carefully fitted into solid, ten-foot-thick walls.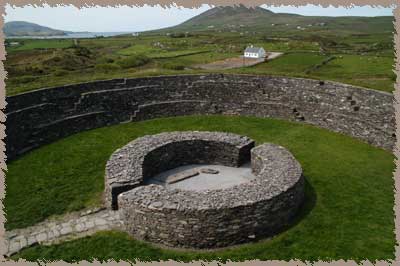 the clochan inside the fort, and the "steps" on the inner wall
Inside, there are two buidlings -- a clochan (a round beehive hut) and a rectangular house. These were probably added in the 9th-11thc enturies, hundreds of hears after the round fort was build.

drystone, stacked walls -- no mortar!