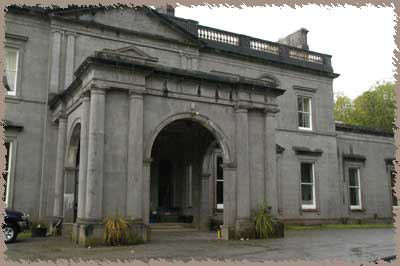 the georgian facade of Templehouse

We stayed at Templehouse for only one night, and we instantly regretted not arranging to spend a few days here: the house is phenomenal, the other guests are marvelous, and the Percivals (Roderick & Helena), who owns the estate, are gracious and lovely hosts. We arrived with another young couple (he was an oceanographer!) and a whole family from Northern Ireland staying the weekend, kind of a mini-reunion.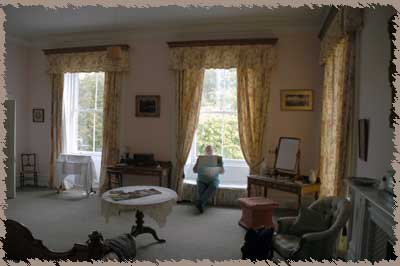 a view of HALF of our enormous room
We didn't call until just after lunch (which is actually a bit late, you should call your B&B for the day before noon, if possible, to give them a chance to prepare). Anyway, they did manage to squeeze us in -- in the biggest room I've ever seen, called the Half Acre. It might have been -- the room itself was probably 30' x 30' (and, as you can see, about 15 feet tall)...and we had another "second" bedroom suite attached. We got the family suite, one of eight room in the house.
The house has been in the family since 1665, and the current house dates to around 1865. The part of the house open to guests is restored, but the other wings of the house are "a work in progress", as Roderick says. They are working on each room as they go (there is something like 100 rooms in the place) and opening guests rooms one a a time. The place is absolutely fabulous.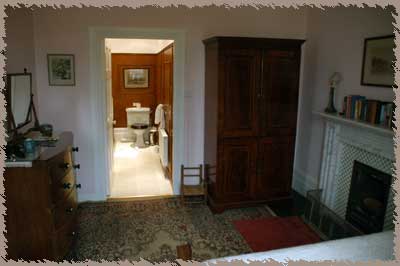 in the second part of the suite, looking into the huge bathroom
There are two ruined castles on the property (which is a 1200 acre working farm -- the sheep and other farm animals wander at will, and the lake behind the house is part of the estate. Fishing, riding, and birdwatching are offered, as well.
page
[ 1 ] [ 2 ]