the Dunbrody, moored in New Ross

Passing through New Ross, we saw signs regarding the 2005 Tall Ships (which is where all the existing tall-masted ships and restorations sort of parade through, and stopped when we saw the sign for the Dunbrody Famine Ship. Despite the ominous name, the ship is a completely restored ship, once used to transport immigrants to the US and other places.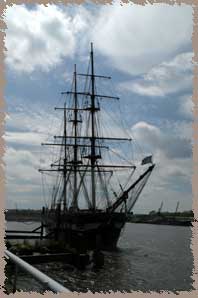 Dunbrody will lead the Tall Ships in 2005
Mark is fascinated by old ships, especially ones that are currently under restoration, so we got in line and took the tour through the ship. We managed to get on the tail end of a school group, so we were following around a few dozen grade school kids. There are two actors on the ship who give readings about the type of passage that might be availble -- a rich woman in a private stateroom, and the crowded, underdeck quarters of the poor passengers. It was quite fun!
The original ship was bult in 1845 for the Graves family in New Ross by a company in Quebec. The ship was used to carry emigrants to the US from that time until 1870. The Dunbrody is a 458 ton ship, 176 feet long (including the bowsprit). The hull is 120 feet long. The current ship is a reconstruction, according to their website.
Usually, the Dunbrody carried timber, but when the Famine hit, belowdecks was fitted out with cabins and bunks. Usually, about 176 people travelled, but at least one crossing carried 313 people. The fare for the poor passengers, most of them tenants of the local estates, was roughly two months' income. Richer (cabin) passengers paid two to three times that fare, and were treated very well. Steerage passengers were on their onw, and often not allowed above decks.
We looked at the bunks below and thought, "that's not so bad/" They were not very tall, but seemed roomy enough...until we found out that 6-10 people slept in them. Yikes! Most of the bunks here have names on them, and lists of the people who slept here on one voyage.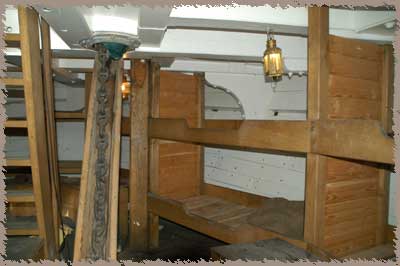 the wooden bunks in the hold for steerage passengers
page
[ 1 ] [ 2 ]