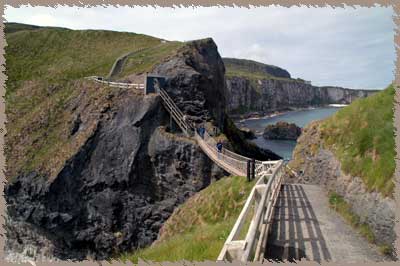 the narrow rope bridge to Carrick island

Carrick-a-Rede (which is actually Scots Gaelic for Rock in the Road) marks a stop on the sea road for Atlantic salmon. FIshermen here have strung a rope bridge across the narrow chasm from the mainland to the small island of Carrick to allow them to catch fish. The original bridge was indeed rope, and crossed daily by fishermen to access the commercial fishery on the island. Fisherman have netted salmon here since the 17th century.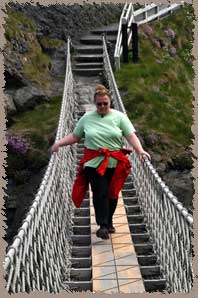 Me on the bridge, bouncing merrily.
The modern bridge is a much more sturdy affair, with cable sides and a fairly stable walkway. It still bounces all over the place, eliciting screams from those crossing, but it's not as dangerous as it is made out to be.
It's a long (LONG!) walk from the main car park and ticket office, along the steep cliffs and really stupendous views. Along the way is an abandoned lime kiln and some extremely steep steps down to the level of the bridge
The bridge itself is about 80 feet high where it crosses the 50 foot channel, and sways alarmingly with more than one or two people on it. Since about 100,000 tourists a year jounce across it, though, so it mst be pretty safe. It says that the bridge is re-rected anually, but it certainly seems like a permanent structure to me. The ends of the bridge are well-secured with hooks set into the stone.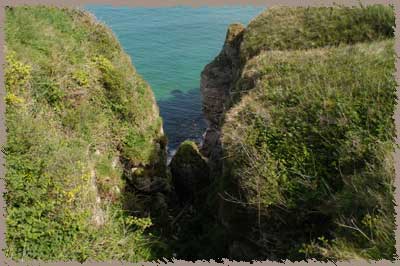 looking down during the long, long walk to the bridge
Looking down from the pathway to the bridge has some breathtaking views.