the fortified tower of St. Munna's Church
We ran across this church while driving around looking for castles -- it sits just off the road behind a closed gate. The church here is built on the site of an earlier church founded by St. Munnu (or St. Fintan), who founded a nearby abbey in 599.
The tower was built as fortified lodgings for the priest, and is simply tacked on to the simple rectangular church, which has small windows and crenelated walls. Originally I thought thi was a castle or tower house, but research later revealed that it is indeed a church
It is noted for a sheela-na-gig (grotesque femail figures that often decorate towers) on the small window. I, undfortauntely, did not get a good picture. Sorry!.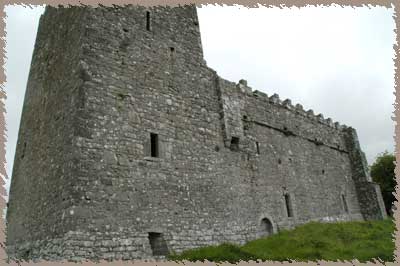 Looking at the tower from the back, including the latrine chute.