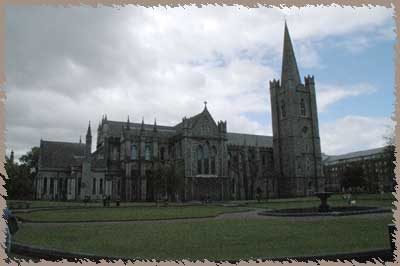 st. patrick's cathedral, from the park
Dublin history says that a church has stood on this site since 450 CE, when St. Patrick baptized converts to CHristinaity on the site. If so, this is the oldest Christian site in Dublin. It is the national cathedral of the Church of Ireland. It was built only 20 years after the great Norman Christ Church Cathedral, which is just up the street St. Patricks, though, was built int he Liberties -- the area outside the walls and outside the jurisdiction of the Mayor and other laws of the city.
The two churches competed with grand rebuilding projects, each vying to be the 'ultimate church' in Ireland. St. Patricks was elevated to the status of Cathedral in 1213. The pope stepped in and declared that Christ Church was the supreme church in 1300, but the largely protestant section of Dublin still embraced their own cathedral. St. Patrick's was demoted back to 'church' during the Reformation, which allowed Christ Church to grow more powerful. Still, St. Patricks (while not as aesthestically pleasing as the other) is a more interesting church, since more of the medieva interior remains in good condition. Later restorations were a bit more conscious of the earlier architecture.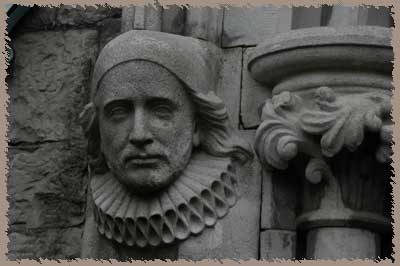 my favorite ireland picture - faces on the gothic facade of St. Patricks
One surprising things about the church is that it has no crypts underneath the main part of the church. It was built too close to the River Poddle (which is now only visible as a tiny trickle in the cellars under Dublin Castle).
The first recognized church here, St. Patrick de Insula was finished in 1192, and due to the vagaries of time, not much remains of the original church foundations. There is no evidence of any earlier church except a 9th century cross, found in 1901 in the churchyard. The new Archbishop, de Londres, decided to rebuilt the church entirely in 1220, and the "new" St.Patricks cathedral was consecreated in 1254 (although the building wasn't actually finished until almost 1270.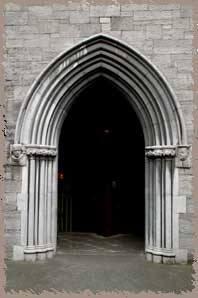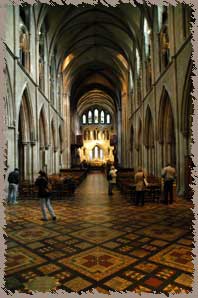 lovely arhced doorway / reproduction tiles in the nave
The current bulding is mostly later construction.The spire is form the 18th century and the square tower is from a 14th century rebuilding after a fire. The tower, built by Archbishop Minot in 1370, is slighly out of alignment with the rest of the church. . The bells inthe tower are the largest in Ireland. Much of the interior decoration is Victorian. The flying buttresses outside are a later addition as well, added when the Gothic porch at the entrace was added. I don't think they are actually structural at all. The entire building was resurfaced in new stone under the auspices of Sir Thomas Drew in the 1860's.