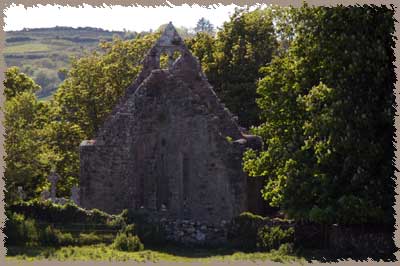 the standing wall of Rath Church, Dysert O'Dea

The Rath Church is just one of the ruins in the estate of Dysert O'Dea. It is of interest mostly because of the crypts and some of the carvings (including an odd face with a miter headdress) on the walls.

a stange face with a mitered headdress in the wall
Most of the chancel of the church is gone, except for the single pointed arch in the wall. There are decorated panels and what appear to be reused blocks arond the windows -- in one case, a carved figure is upside down under a window.
The church was originally part of a 6th century monastery, but nothing else remains of the foundation, which is overgrown and fragmented.