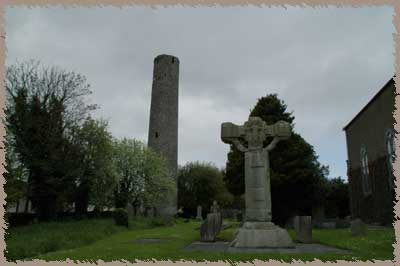 round tower and broken cross in the Kells churchyard

This is the churchard in the Heritage town of Kells -- where the fabulous Book of Kells was illuminated. Don't confuse it with the Kells Priory in county Kilkenny. This one is called Ceanannas Mo/r-- "big" Kells. Of course, the book is not actually here (it is carefully displayed in Dublin). There is a fine reproduction in the Heritage center/museum.
The monastery was founded here by St. Columba in the sixth century. It prospered here, and produced the amazing book of Kells (although at least one source suggests that it was actually produced by the monastery of Iona in Scotland. The monastery was burned in 1170, again 1315, and finally dissolved in 1551. Not much really remains of the monastery, but the modern church grounds cover most of the original monastery lands.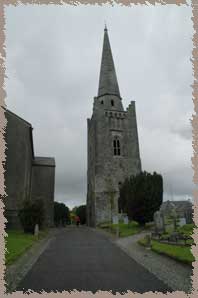 the existng church tower
A round tower on the grounds dates from 1076. The doorway to the tower is a rounded arch, and the tower has five windows, instead of the normal four (facing the cardinal directions). The windows are also triangle shaped, which is unusual -- usually the four windows are square.
The church is a much more modern structure, of course -- but the real draw here are the High Crosses that stand in the courtyard of the church. Only two are complete, and represent scenes from the gospels.The largest, the Cross of Patrick and Columba (so called because it has an unusual latin inscription to that effect) stands in the church yard near the base of the round tower
Two other crosses -- the Broken Cross and Unfinished Cross stand among the other gravestones.
The church itself is built on the remains of a much older medieval church. The older ruin was restored in 1578 and was used until the current church was built in 1778 All that remains today is the bell tower. THe current church was updated several times and has the interior is now ornate Victorian Gothic with stained glass and monuments and tombs inside. It is still in use, and services are held every week.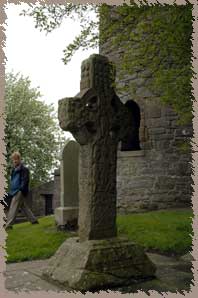 two high crosses at Kells\