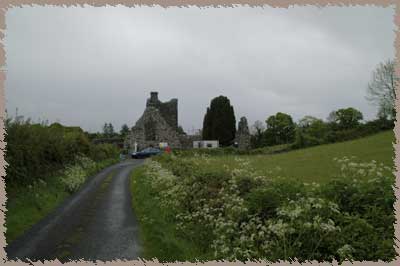 the road up to the ruins of creevelea friary

Creevelea was fonded by Eoghan O'Rourke and his wife Margaret in 1508. The Franciscans settled here and were active from 1508-1590 and then again (after the suppression of the monasteries) from 1618-1837. This makes it the last Franciscan friary to be founded in Ireland before the suppression. The friary was burned (apparently accidentally!) in 1536, and it was probably not restored before it was abandoned. In 1590, it was taken over and used as a stables. The monks eventually returned, but were forced out once again by Cromwell's forces. They returned after the restoration and remained there until 1837.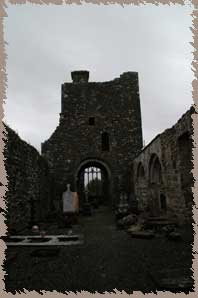 the fine tracery window and the view inside the church to the tower
Quite a few of the detailed windows remain in good condition, and some of the domestic buildings of the friary also remain in good condition. The church itself, which consists of a nave, choir, and south transept, is quite ruined. The tower was actually used as a residence in the 17th century. The sacristy, refectory, and kitchen foundations remain
A large portion of the very small cloister remains, with detailed carvingson the pillars and many of the arches still intact. There are carvings of letters, saints, and other symbols on the wide pillars. THe stone is dark, but you can see the faint outlnes of bas-relief carvings of St. Francis on two of the columns, including one wher ehe is preaching to the birds.

stout columns in the small, irregular cloister
It's only a short walk from the village to the friary (although we drove, since we came from the other direction). There were work trucks parked there, and scaffolding set up. It is an open site, no admission charge.