The restored exterior of the church and the 19th century synod hall
The cathedral actually site a little below current street level, although the stone walls hide this somewhat. The street to the east side, FIshamble Street, was the main road of Viking Dublin.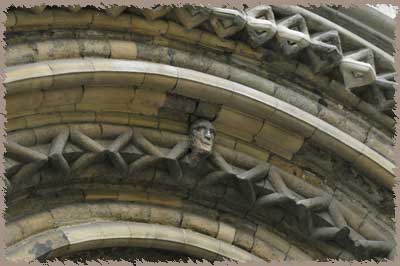 detail of the romanesque doorway, little people faces included!
The flying buttresses around the cathderal were added in the 1870s. The church is dark gray stone, but there are some charming detials on the doorways and rooftops. I am always a little unnerved by the tiny human faces that are incorporated into the door way arches -- I never expect to see them and they peek out from the strangest places! The current exterior is entirely the result of restoration, very little of the oriignal fabric ofthe church exists, it looks purely 19th century.

south wall of the aisle, and the bridge to the synod hall
The cathedral is connected by a lovely stone bridge (bult in 1878) to the Synod Hall of the Church of Ireland (now the home of Dublinia, a multimedia attraction). The synod hall was built at the same time on the site of the 17c parish church of St. Michael, and was used for the yearly meetings.
The church is open daily, except during services, and there is a €2.50 entrance fee (which you can combine with the Dublinia entrance fee.)
Also, I found a lovely report by The Mystery Worshipper website of how the cathedral evensong service was