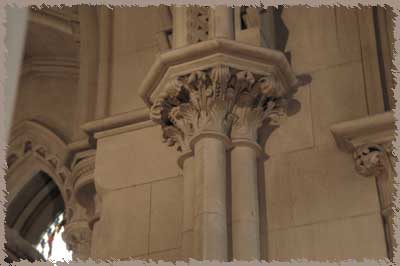 ornate, detailed capitals and a pointed gothic arch

The south transept dates back to the 1190s and has an odd combination of pointed gothic arches and decorated Romanesque arches. The inside of the church contains dozens of shrines, plaques, and memoria -- it was apparently quite common for the rich and fanous to be buried here in elaborate and expensive shrines. You can see a few along the walls, including a rather exotic-looking baptismal font, and incredibly wrought gothic-style seats near the choir, called a sedilia.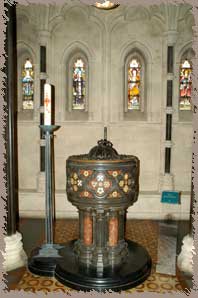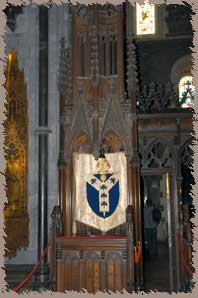 the enamelled baptismal font, and the dark-oak victorian sedilia
The choir and alter are ornate, and flankedby the Peace Chapel and Lady Chapel, and the wooden screens, which date from the 1870s, and later victorian wrought iron screens. In the chapel, you can see the small shelves that were called 'cheaters' -- allowing the choir to surepticiously sit.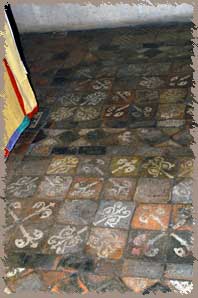 original 13th century floor tiles in the Peace Chapel
The currrent cathedral is, of course, lined with pews. Remember, though, that medieval churches did not have seats for the attendees of mass. If you couldn't afford to have your own seat made (and there are several examples of lovely "family pews" in the church) you stood the whole time in the packed aisle of the church.
A section of the original mosaic tiles remain in the Peace Chapel of Saint Laud. St. Laud was a fifth century bishop. There are 63 different patterns on the floor here, which the Victorian's copied throughout the cathedral during restoration. The notes from the Cathedral note that a 2 minute prayer for world peace are said here at noon every day.