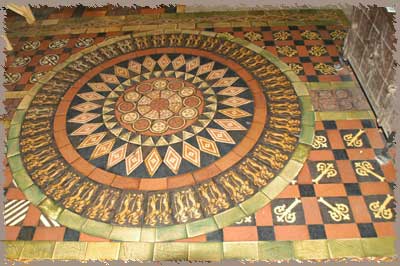 Victorian copies of the medieval tiles -- 63 different patterns
There are some lovely floor medallions in the aisle -- ovviously the work of Victorian restorationists -- but they use the smae patterns as the original work. The details inside the church include some lovely doorways and carved heads (including two griffons). From the center of the church, it's possible to see the spectacularly leaning wall of the nave (The Leaning Wall of Dublin) which is off from vertical by nearly 18 inches.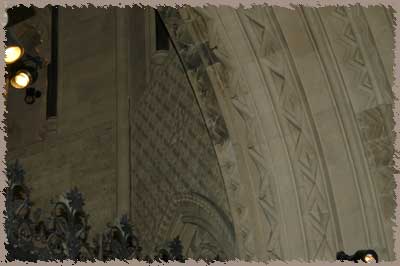 interior stone details of the arches in the nave
Beneath the church, recent renovations have opened up the crypts, where you can see the enormous stone piers that hold up the main floor of the cathedral. The crypts date from the late 12th century and are some of the largest medieval crypts in Britain and Ireland. They may also be the oldest extant building in Dublin. The surprisingly tall stone arches run the entire length of the church (sme 175 feet), which is quite unusual. Some of the original timbers used in construction are still visible.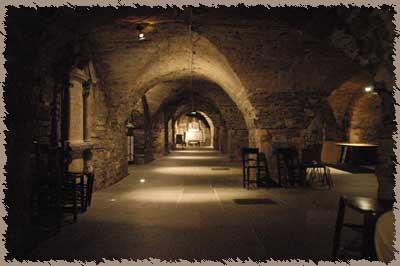 the 12th century stone foundations and crypts under the cathedral
In the crypts, there are displays of relics found in the rooms beneath the cathedral, as well as monuments and treasures that were moved here to a larger viewing space. Statues of Charles I and II and monuments to local noblemen were also moved here during the restoration. The foundation arches probably were original to the earliest cathedral here, which the Anglo-Normans demolished to build the current building.
There is a small plaque and display of the mummified cat and mouse that were found int eh organ pipes.
photos
[ 1 ] [ 2 ] [ 3 ] [ 4 ] [ 5 ]