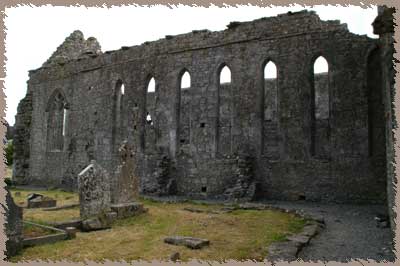 the long wall of the church with fine lancet windows

Athenry is one of the most important walled cities in Ireland, situated on the shores of the Clarin river. Five mural tower still exist, and oneo f the gates still stands in the middle of town. The town was walled in 1211 and was a seat of the de Burgh. (See Ardfert). The well-restored remains of Athenry Castle are just up the street, and this Dominican Priory was founded in 1241 by Meiler de Bermingham. It was named a "university" by the Dominican order in 1644. The church is dedicated to saints Peter and Paul.
It is mostly in ruins, despite restoration after the invasion of the Normans and subsequent wars in 1638-44. Cromwell destroyed it in 1652 and it was not rebuilt. The walls of the church remain, with beautiful lancet windows (like Ardfert Cathedral and Adfert Friary).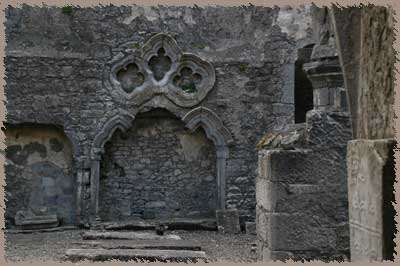 an ornate gothic crypt in the chapel
There are dozens of grave slabs in the cemetary and church, and inside the chapel are niches with statues and other monuments. The lady Mathilda de Bermingham is buried in an ornate crypt in the church. The church was locked when we visited -- we could walk around the outer wall and in the grounds, but any gate inside was locked. The staff at the castle didn't know who had the key or how to obtain it, so we weren't able to get a close look at the crypts inside, just pictures through the available windows.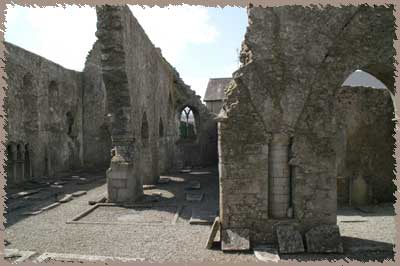 the transept and aisle of the main church grounds