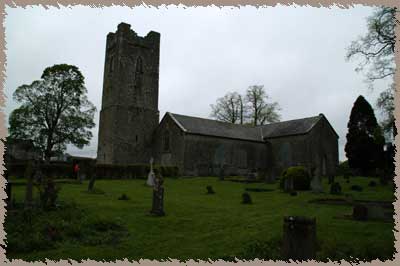 We spent our first few days staying at Woodtown House, just outside of Athboy. It's a really nice little town, with a few good restaurants, grocery, and some interseting buildings on the main street. It was originally a walled town, and some of the fragments can still be seen on the main drag.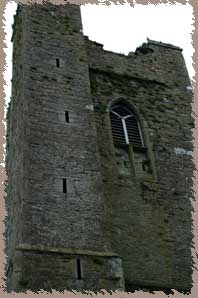 Athboy is a Heritage Town, and tourists offices have a number of walking maps for the sites in town. The town itself dates from the sixth century, and is named for the ford across the river, Yellow (bui) Ford (ath). It was an important crossing and the town grew quickly.


Off the main street are remains ofthe castle walls, the castle itself, the old market house, town hall, and a number of churches. The main church in town is under construction, but the old Church of Ireland grounds (near the library) has a lovely tower from an older church incorporated into the 1772 main church. The town library occupies the sextons house -- and, in the back corner of the cemetary, a section of original wall can be seen.
It's a nice walk through the town. Stop for cookies in the bakery!