Citadel of Saladin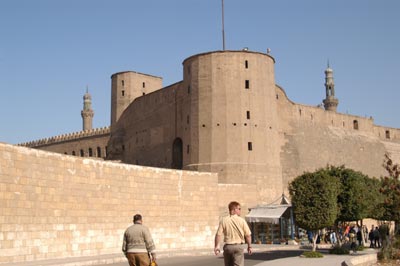 The citadel -- called Al-Qala'a al-Gabal, Citadel of the Mountain), or Al-Burg -- dominates the hill over looking Cairo. It was built by Saladin (1171-1193) as part of the fortiifcations of the city. The original design is very Palestinian, looking much like the crusader castles built there and in Syria.
It was begun in 1176, and pieces of the giza pyramids, ruined mosques, and other salvaged stone were used in its construction. It includes two walled enclosures with the military tothe northeast and the residential quarters to the southwest.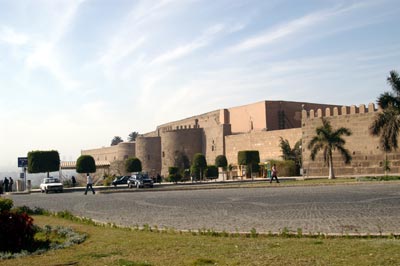 There is a tower roughly every 100m along the walls, with internal passageways that run the entire circumference of the site.
Sultan Al-Nasir added a number of buildings to the site in the 14th century, including a mosque. The citadel was "upgraded" by the Turks to support the use of cannons. The great Alabaster Mosque (the Mosque of Mohammed Ali Pasha) is perhaps the latest addition to the citadel.
Most of the walls and towers along the northern enclosure still date from the period of Saladin. The walls are 10m high and 3m thick. The length of the walls is over two kilometers. There are a number of gates in the walls -- Bab al-Azab on the west, with two round towers, Bab al-Qullah connects the the two courtyads, and Bab al-Gadid (the New Gate) which was built in 1828.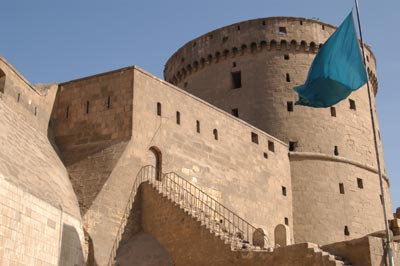 THe largest tower in the CItadel is Burg al-Muqattam, built in 16th century. It is 24 m in diameter and designed to withstand artillery attacks.
There are a number of mosques on the grounds, including the Mosque of Ali Pasha (Alabaster Mosque), the Mosque of Sulemian Pasha, the Mosque of Ahmed Katkhua al-Azab. A few museums are also open to the public -- a Carriage Museum, a Military Museum, and an odd Police Museum and Siezed museum, hodling items taken from smugglers and travelers.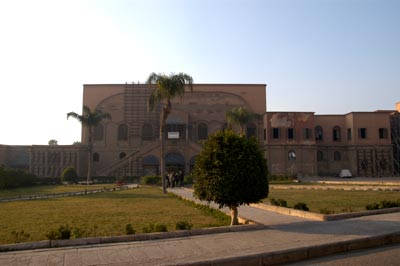 The views from the gardens and walls of the citadel are fabulous - on a clear day you can see to the plateau of Giza and the pyramids. However, the city is usually very hazy, so you can only look over the closer parts of the city.