Islamic Cairo
Cairo is the city of a thousand minarets, and a look across the skyline of the city (when you can see farther than a few blocks!) is testimony to the claim. There are hundreds of mosques, from thousand-year old stone ruins to modern buildings.
I found a lovely guide to Islamic Cairo, which has walks down most of the major streets from the Citadel and walks by dozens of mosques and ancient houses. The winding stone streets take you back in time.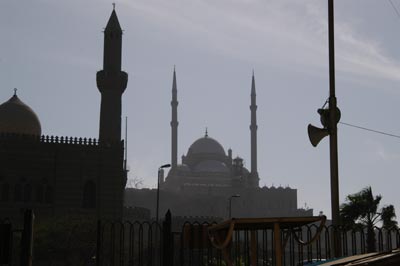 We didn't manage to sneak away in Cairo to see more than a few mosques,a dn most of those ont he day we visited the Citadel. We decided to spend our other free day at the Museum, so we only saw a bit of the City of the Dead (which is fabulous), and a smattering of mosques in the area, including Al Rifai, al Nasir, Amir Akhur, Sultan Hassan and, or course, the magnificent Alabaster Mosque.
The largest mosque in Ciaro -- the xxxx mosque -- was inaccessible to us due to the festival. Thousands of people were crowding the streets (many of which had been lined witn carpets) and we could barely drive past the place, much less go inside.
Fro the picture that follow, you'll probably get the idea that I spent a lot of time staring straight up -- the ceilings and tilework in these buildings is stunning. I only fell down the stairs once!