Al Rifai Mosque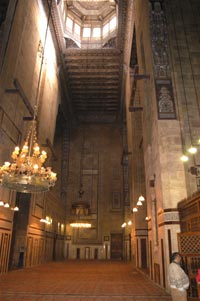 Across from the massive Sultan Hassan Mosque, down from the Citadel, is another mosque --a although this one is far newer, being from the 19th century. It wasn't finished until 1912. The mosque was named after Sheikh Ali al-Rifai, the founder of the Sufi Muslim school bearing his name. He was originally buried in the mosque.
It also contains the tombs of Khedive Ismail, hus sons SUltan Hussein Kamil and King Ahmed Fouad, but not King Farouk, even though it was intended as the mausoleum for the family. The sanctuary contains forty-four columns in nineteen types of marble, eighteen windows with grilles (costing E£1000 apiece) and far too much gold leaf. (note, that one of my guidebooks (footprint) states that Farouk is not buried here, but Rough Guide asserts that he is).
This mosque is also the tomb ofthe Shah of Iran (Mohammed Reza Pahlavi), built of green marble imported from Pakistan.