Coptic Cairo
In the southern part of the modern city of Cairo, is the Old City -- a bastion of coptic chrisianity settled in the are of the old City of Babylon. There are several Christian churches here, as well as the oldest Jewish synagogue in Cairo.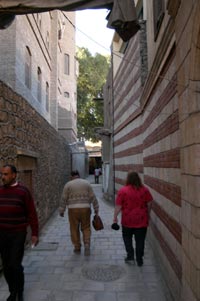 The Old CIty is on the site of a much earlier city, Fustat, the first Islamic settlement built by the Persians about 500 BCE. . It was rapidly overtaken by the Christians, and for about a thousand years it remained the center for Copts, before the city was taken over by Muslims.
The cluster of churches in this narrow-laned medieval city are mostly CHristian, many built on the foundations of an earlier Roman city -- indeed, the foundations of the Roman Towers are incorporated into the xxx church.
Among the interesting sights in Coptic Cairo are: the new Coptic Museum, The Hanging Church, the Monastery and churhc of St. George, and the famous churches of St. Sergius and St. Barbara.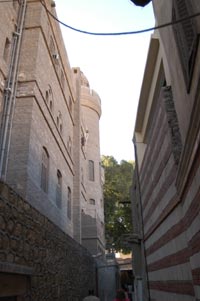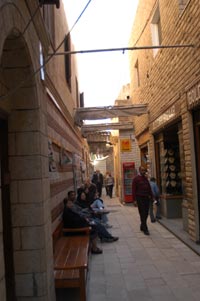 Finally, the synagogue of Ben Ezra -- a much rebuilt and charming building, lies in the center of the Old CIty.