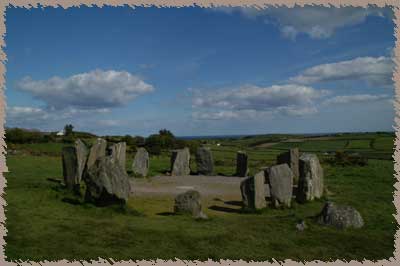 stone henge at Drombeg
There is something quite mesmerizing about the circles of standing stones -- these tiny stone henges that dot Ireland. This is a very small circle -- perhaps only thirty feet. Of the seventeen original stones, only 13 remain in place. The northeast side of the ring has the portal stones (with are nearly 2m high. The stones are local sandstone, and form a circle about 9.5m across.

We still don't really know what the circles are for - from enormous Stonehenge to the little circles that dot the islands here. LIkely they were temples or places of worship, given that the they are aligned carefully with the winter solstice (I suppose they could just have been calendars, but it seems a lot of work to build something monumental in stone when you could do the same thing with teeny rocks on the table).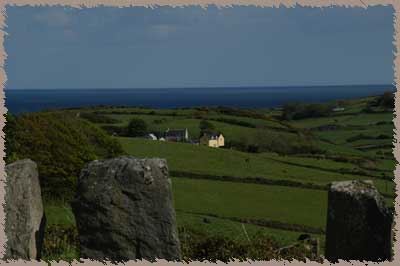 looking out to the sea from wtihin the circle
The circle is known as The Druid's Altar by locals. Remains buried in the circle date to between 150 BCE and 130 CE, although the circle itself is ikely Bronze Age.
There was a small settlement nearby, which was excavated in the 1950s. Several stone-built prehistoric huts joined by a common pathway and a kitchen area are obvously laid out west of the circle. A deep trench may have been used to boil water in the communical cooking area, which also contains a large hearth. At least one site suggests that this may have been a season or annual gathering place, not necesary a permanent living area.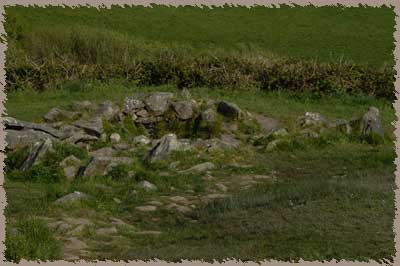 buried passageways, cooking areas, and huts near the circle

living huts and cooking area excavated in 1950s