ramparts and fosses entering the fort
Dunbeg is an Iron Age hill fort, which sits on a crumbling cliff in Dingle Bay. There are four lines of banks (mostly covered with grass now), five fosses, and finally an inner stacked-stone building. Now, of course, most of the stonework lies under grass and peat, and other than the rolling shape of the concentric "walls" its hard to visualize much of the fort. This area on the Dingle Peninsula near Ventry is thought to be one of the last areas occupied by the Vikings in Ireland.
The Iron Age, of course, following the Stone Age and Bronze Age. In Ireland, this lasted about a millenia, from 500 BCE to 500 CE. It's hard to give a range of dates that are "Iron Age", since different parts of the world began working Iron at different times. While one area might be using bronze tools, another might still be flaking flint and stone tools, while yet another made crude iron knives.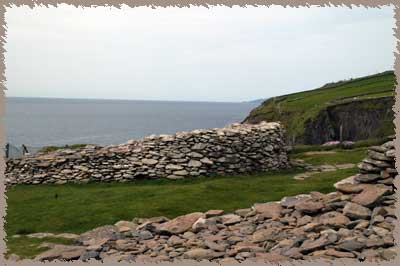 remains of the clochan (beehive hut) inside the rampart wall
There are hundreds of neolithic, bronze, and iron age remains in Ireland. The most significant remains from this era are large stone forts like this one, usually enclosing a large area on a cliff, or on a hilltop. Dun Anghus is another Iron Age fort on Inis Mhór (the Aran Islands), for example. They are defensive structures, surrounded by ditches and earthworks.
The banks of Dunbeg are roughly 10 feet wide and about 3 feet tall, with ditches between. There is a central path to enter the fort, which was lined with stone slabs -- although only a few remain standing. A stone rampart protects the very edge of the cliff, and Inside the fort is a dry-stacked stone beehive 'clochan'.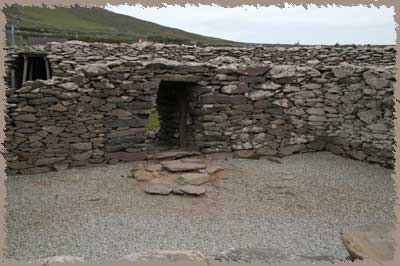 dry-stone walls of the rampart, with the tiny main entrance
Between the outer wall and the inner building is an underground passageway called a souterain. It would have originally been covered with grass, I imagine, but now is just the stone flaggings. You can see down into the passageway from above.
page
[ 1 ] [ 2 ]