It was more than a century later when the new phase of garden design was completed under the 6th Viscount Powers. This design is more italian in style. Work continued until 1844, and was resumed under the VIscount's son in the 1850s. THe terraces were completed and by 194, the gardens were nearly completed. The house passed to the Slazenger family, and the gardens have bene under constant care since.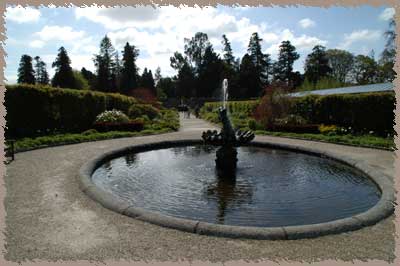 One of the fountains in the walled garden
The gardens closest to the house are the Italian gardens, with multiple terraces, clean beds, and lots of ornamental statuary. There is a lake at the bottom of the enormous promenade, and the statues of winged horses were made in Germany in 1869. The initial curved stairs are decorated with patterns of white and black stones. Considering that these gardens were meant to be walked around after parties and such, they are remarkably hard to walk on.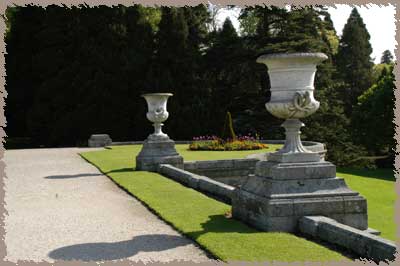 paths leading off the first terrace into the garden
page
[ 1 ] [ 2 ] [ 3 ] [ 4 ] [ 5 ]