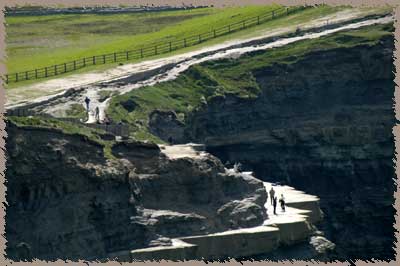 the rock ledge (which recently collapsed) and a few insane people

The cliffs have been falling into the sea bit by bit, leaving only a narrow shelf in some places. LIke us, they hopped over the fence and clambered down -- some to lay on the shelf and peer down the 600 foot drop. You can see that there are a ton of paths leading to the very edge of the cliff, and of course, Mark climbed right down and took a look. Me? Despite being Danger Girl and ignoring the fence, I stayed behind the stone barricade and freaked out whyile he did it.

what's left of the lower rock ledge, cantilevered out over the sea, 700' below
However, the view from down on the "shelf" is...well, it's amazing.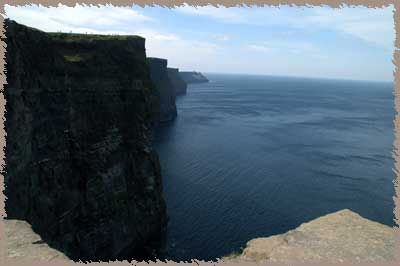 there's a reason this is a famous vantage point