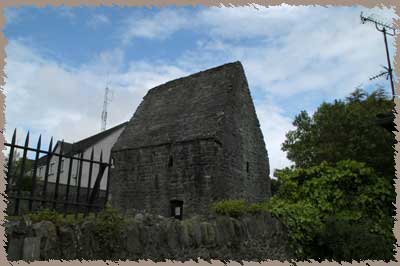 the dry-stacked Columcille's House in Kells

The town of Kells has an Abbey, a number of crosses, and an interpretive center for the Book of Kells -- walking through the steep streets is a relaxing few hours. Of course, the actual Book of Kells is not here -- so the town is not actually too tourist-heavy.
One of more interesting little side-trips, though, it to walk up around the brand new Super Value grocery store, and pass the walled-in lot containing Columcille's House -- a dry-stone building called an Oratory. Built much like the smaller Gallarus Oratory, this building was probably added by the Coumban community before the abbey and church were built. LIke Gallarus, there is no mortar in the house, it is stacked and angled stones.
The tiny original door is about eight feet up the wall, for securities sake. It would have been reached by ladder. The current entrance is modern.