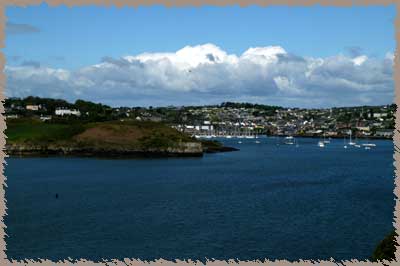 The gorgeous bay near Kinsale

Kinsale is a lovely little town in west Cork, on the Beara Peninsula. Kinsale is about 20 miles from Cork, and is considered a very desireable travel location -- the rich and famous head here for culinary festivals and a chance to sail in the harbor. The restaurants here are fabulous.
Historic Kinsale has been a city since the 12th century, when Anglo-Normans commanded the harbor here. Over the centuries there have been a number of battles here between the English and Irish (including one stupdedous Irish victory), but eventually Kinsale became and English town and Irish were forced to live outside of the town limits.Eventually, most towns in Ireland fell to the same pattern.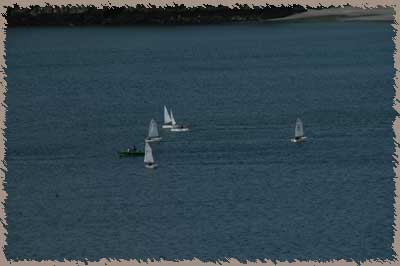 young kids in the bay, practicing sailing
Charles Fort, on the bank, is worth a visit if you are at all interested in military installations (as Mark is). Ther eis another ruined fort across the entrance of the bay, but there isn't much left of it.