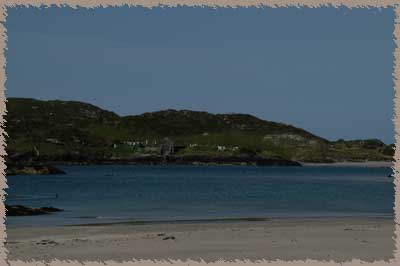 the long, flat beach at Derrynane
We had a ball walking along the beach. We had the company of a few people walking dogs (not their dogs, but their neighbors, I guess...what's with walking a dog that's not yours around here? Weird!) THey'd throw a ball out into the surf and then have to chase the dog out into the water to get it back. The dog was having a blast, the people were getting their feet wet!

Another view of the beach
One of the outbuildings has an enormous guilded carriage in it -- all gold leaf and swirling roccocco panells. It has -- quite literally -- a throne on it, on which Daniel O'Connell was carried throught he streets of Dublin upon his release from prison. You're not supposed to take pictures (not sure why --) but it sure looks like something the French king wuld have driven in. It icertainly fits the "folk-hero" image of O'Connell, who ate too much, drank too much, and (at least according to popular rumor) fathered a child in every town. O'Connell was the first catholic to sit in the HOuse of COmmons in Britian, and he worked to repeal the Act of Union. He was arrested and imprisoned as a result of one of the demonstrations. Laying the foundation stone for his memorial statue in Dublin attracted a half million people -- the largest political event in the 19ths century.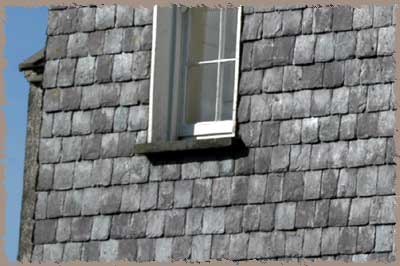 closeup of the slate siding on the tower
page
[ 1 ] [ 2 ]