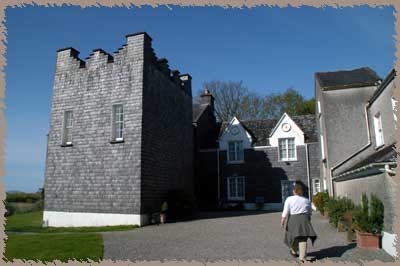 the slate-sided Derrynane House, home of Daniel O'Connell, the Liberator
Derrynane House is not so much interesting for the house itself (although the slate-tiled tower is rather striking), but instead that the house was the home of Daniel O'Connell, the "Liberator" -- the catholic lawyer and politician who negoatiated limited Catholic emancipation in 1829. The O'Connells were an old Irish family (making their fortunes trading -- and smuggling).Daniel's uncle left him a fortune from the family business, which left Daniel the wherewhithal to go into politics and "do some good." He had seen the discrimination against Catholics first hand, and was responsible for repealing many of the rigid laws that targeted Catholics.

View of the house from the beach
The house itself is plain, with rough rooms.It was bult in 1702, and was substantially updated by Daniel O'Connell in 1825. The family continued to live in the house until 1958, but it fell into disrepair. It is currently being used as an interesting, small museum of Daniel's effects (a lot of things are quite ordinary, but the glowing descriptions make wandering the tables and cases quite fun.) "This is the pen that O'Connell used...." and "This is the chair he sat in..." that sort of thing. Most of the decoration is quite kitschy -- Victorian and ugly, that is.
There is a lovely beach behind the grounds (roughly 300 acres of wooded land) that is a quiet walk It runs for a few miles behind the house, and offers not only lovely view of Derrynane House itself, but across the water to Abbey Island, which carries the remains of a medieval church and other buildings. It's possible to walk all the way around to the island at low tide.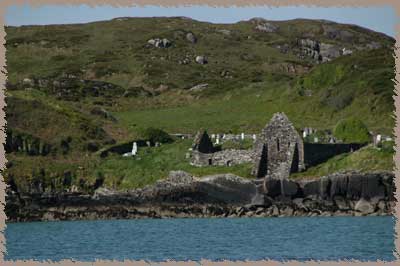 looking across to Abbey Island from Derrynane's beach
The house also has the largest examples of gunnera (the prehistoric rhubarb plants) that we saw. There are a lot at Bantry House, as well -- but the ones here are spectacular!
page
[ 1 ] [ 2 ]