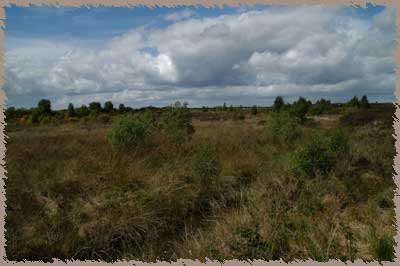 looking out over the modern, rejuvenated bog

Bogland is (as the previous photos noted) quite dangerous. It looks solid, but you are just as likely to sink in past your knee than find anything solid. Wanderig off the solid path (in this case a wooden platform built over the bog) can mean being sucked in. I don't think it's like quicksand, but you can get well and truly stuck, or -- worse -- fall into a bog pool, which is a deep pool with just a thin covering of plant matter over the top. You fall in and, bloop! you're under.
There were some blanket bogs (which look like frayed felt over rocks) in the mountains and walking on them is an interesting proposition -- they sort of squish disturbingly, and it feels lke you're walking on a sponge. You won't sink in those, but in a raised bog you're on your own. If the ground starts feeling soft...back out!

teeny, tiny, itsy-bitsy Venus Fly Traps - 1/4" wide