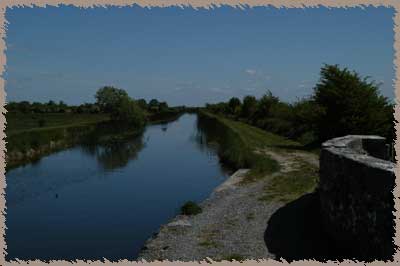 a long, straight stretch of the Royal Canal

At one point, canals crossed Ireland - the Royal Canal was used for processions of nobility, as well as shipping. This is the Grand Canal connect Dublin with the SHannon River and were used for almost a century for shipping good and people. It was built from an original survey in 1755, and completed as far as Mullingar by 1806. It was finally cut though to the Shannon estuary in 1817 and cost roughtly 1.4 million pounds.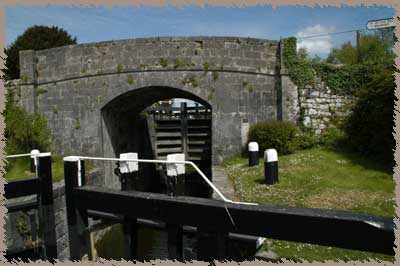 one of the 46 locks, this one a manual lock for small boats
The Royal Canal is roughly 90 miles long and has 46 locks on it, 10 of them double chambered locks). Most of them are thes emanually operated jobs, which Mark finds fascinating. I kept waiting for him to fall in.
While the Grand Canal was used more often, the Royal Canal carried 80,000 tons of cargo and 40,000 passengers in the 1830s. It fell to 30,000 tons by the 1880s and down to only 10,000 tons in the 1920s. The last boat passed through the canal in 1951 and it was officially closed in 1961.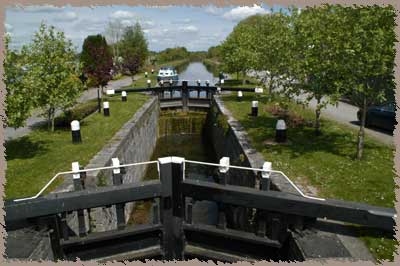 view downstream of the lock with the manually operated gates
However, in the 1980s, reconstruction of the canal was begun, and it was dredeged, repaired, and reopened as far as Mullingar by 1990. It is expected that the remaining part of the canal will be opened as well. Currently, only small boats can pass -- as many of the towns on the route have built solid and short bridges over the canal that are not passable by anything except small craft. Still, it would be a quiet and peaceful way to traverse Ireland , i you have a bit of time. THere are towns not far off the canal route all along its length.