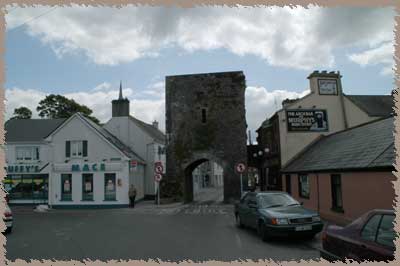 the north gate of Athenry, still on the main drag through town
Athenry is one of the oldest walled cities in Ireland. The town controls an important crossing of the Clareen river, and large portions of the walls remain, including one of the enormous gates. Five towers and the castle also remain.
In the first few years of the 12th century, Anglo-Normans conquered the land around Athenry and moved on to conquer Connacht by 1235. THe conqueror, Richard de Burgo (Burke) was granted lands near Athenry, and his son was the first lord who built a castle here.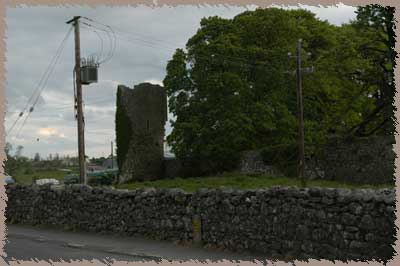 One of the five watch towers still in the walls of Athenry
The irish were defeated at Athenry in 1249 by the Anglo-Normans, who took control of the town. Over time, the Anglo-Norman lords intermarried with the Irish citizens and their loyalty to England was reduced to only lip service.
The circuit of walls on the outskits of town is the longest span of medieval wal. The town was walls in 1211, ahd the castle here was a family seat of the De Burgh and Berminghma families. THe town was extremely prosperous and served as a trading center for many years. However, with the "gaelicization" of the ruling lords, the town fell from favor and by 1567 there were only twenty or so households n the town (compared to 300 or so at its heyday) and the town was burned in 1574. It was ordered to be rebuilt, but was burnt again in 1577. Ohce again rebuilt, the town was burned in 1596 by Red Hugh O'Donnell, chief of the Ulster O'Donnells and it was never completely rebuilt. By 1683, the town was mostly a deserted ruin.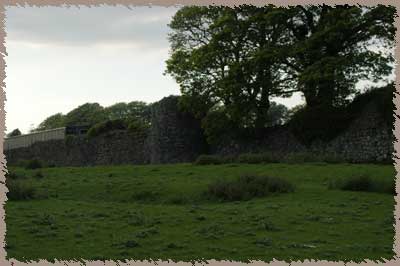 one of the longest standing spans of medieval city walls in existence
Nowadays, restoration of Athenry Castle, the five wall towers and gate, and work on the nearby abbey and Dominican friary have revitalized parts of the town. There was an ourtrageous amount of building and road work on the outskirts of town when we visted -- it looks like business offices -- and the town has a freindly array of shops and pubs. We stayed just outside of town, where a line of newish houses offer B&B accomodation.