the new facade of the gaol, from 1877
I have a fun certificate that I have been released from the WIcklow Gaol (aftter a month's imprisonment for disorderly conduct). We changed upon the gaol on our way to see the nearby Black Castle, and had to take a look. It sites in the middoe of this stolid little town.

The gaol was built in 1702 to handle the increase in prisoners due to severly restrictive penal codes. Many rebels from the 1798 rebellion were kept here (their cells contain their stories via voice-over information. Mark had a hard time with the cells -- the doors are only about 4' tall. Many prisoners from here were also transported to the penal colonies of Australia, and a replica of the shipboard conditions is also found.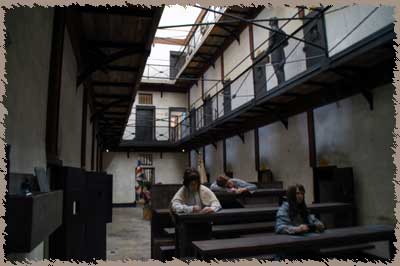 the main cellblock, and makeshift "school"
Entrance to the gaol is managed by a few people in costume, who give the history of the gaol and describe some of the conditions. In 1799, there were 400 prisoners here, and only 42 cells. They were fed twice a week and let outside for only a few minutes a month. The gaoler was paid a salary, and from his salary was expected to provision the prisoners (food, clothing, etc). If you had no money to support yourself in prison, life would be hard indeed. It is partly because of the conditions here at Wicklow that prison legislation in 1763 began to set rules about how prisons should be run and how prisoners should be treated. It was only then that women and men were separated, and the tried and untried were kept in separate areas of the prison.
There wer emany women and children incarcerated here (children came with their mother, if she was imprisoned), so a makeshift school was run each day. The prison was used as recently as 1924.
page
[ 1 ] [ 2 ]