The "Aran Islands" is really a group of three main islands -- Inis Mór, Inis Meain, and Inis Oirr (in English: Inishmore, Inishmaan, and Inisheer). They are about 30 miles from the mainland at the mouth of Galway Bay.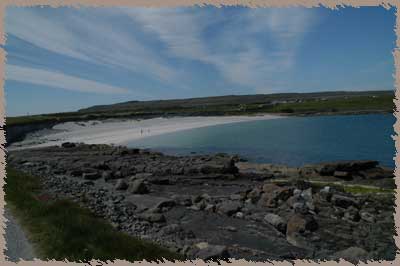 a rather nice swimming beach on the coast of inish mór
Most of the 1500 people on the islands still speak Gaelic as their primary language, and their lives are curiously non-modern -- pony drawn traps are still used, there are only a few cars on the island (moslty used in the tourist trade), and fishing and traditional crafts still abound. It's a half-hour ferry ride to the big island, which is wehre most tourists visit. Pony traps, busses, or bicycles can be used to tour the islands -- I recommend the pony traps, tourist-laden though they are. It's a fine, slow ride around the island and you have the chance to get a feel for the history of the place from your driver. Our driver, xxx, and his pony Charlie, were a hoot.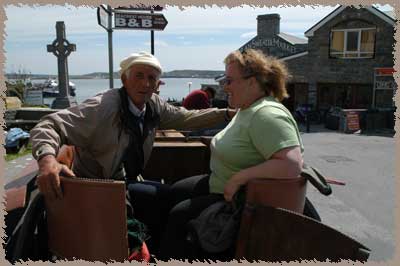 in the pony trap
The ride through the tiny, stone-walled fields, all within sight of the sea, is a bouncing ride up to the main attraction of Inish Mór -- Dun Aengus, an enormous Stone Age cliff sort (500 BCE - 500 CE), which is a perilous walk up a long, uneven staircase to the cliff's edge -- which is entirley unprotected. You can walk right up and fling yourself over, if you want, 300 feet below to the sea. It's rather nice that you're treated as an adult. and assumed that you'll realize it's Dangerous. Ha! In the US, you'd have metal railings installed and seventeen people to shoo you way from the edge.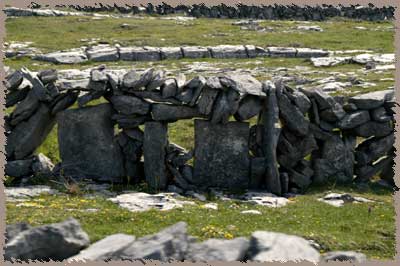 stacked stone walls, the kind separating all the fields on the island
All three islands are a continuation of the strange limestone kersts that make up the Burren in Cº Clare. In order ot have any soil at all on the stone landscape, early settlers would pile seaweed and sand over the rocks every winter -- everntually, the tiny fields were built up enough to plant ont. The fields are tiny and each is walled in with a drystone stacked wall. When animals or people needed to move from one field to another, the walls were temporarily disassembled and then rebuilt behind them.