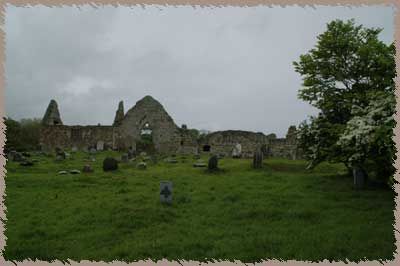 from the graveyard

The south transept arch may have been the original doorway. The western gable is nearly gone, probably used as a quarry for stone for later buildings. The tracery windows on the east are very fine work, and the detached gatehouse can still be seen. The ruin sits on a mound (currently surrounded by a golf course).
The friary was only used for a short time, and was burned in 1584 (under the direction of Elizabeth I). While it was repaired shortly afterward, the Disollution of the monasteries in Ireland saw an end to Bonamargy as working church. It was in use as a friary until the 1790s, however.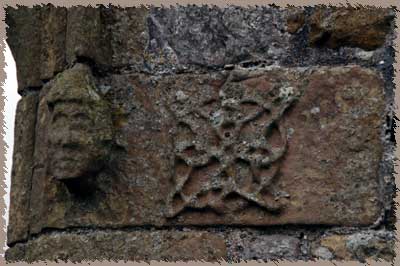 faces and intricate decorations on the window copings
A small lodge near the main church was used as a house. In 1822 a small chest was found hidden inside that contained manuscripts that have been attributed to Thomas Aquinas (1224-74). He had a close friendship with the minster general of the Franciscan order, so it ispossible that it was held here for safekeeping.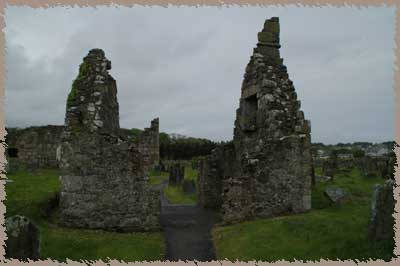 remains of the small gatehouse tower
The friary is open, although occassionally the gates to some of the lower rooms are locked. It is under state care.