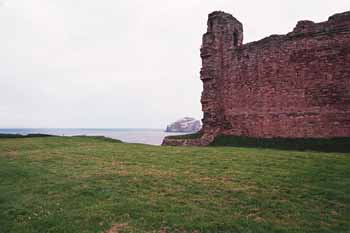 The three towers in the front wall are also impressive, and rise to over 80' tall. The northwest tower, called the Douglas Tower, originally had six stories above a basement and contained luxurious living quarters. Little remains of the round tower but a few foundation stones. The SE tower, which is called the East Tower rose 5 stories. It was designed with wooden floors, but then stone vaulted floors were added, creating smaller vaulted chambers. The tower is also crumbling, with only two complete stories remaining, and then a single wall for the remaining three floors.
The central gatehouse tower is 42 feet square and contained four storeys of residential rooms above the portcullis. This tower contained the drawbridge mechanism, the portcullis, gate, and three pairs of doors and machioloations to protect the single entry to the castle. A barbican was added on the front face in the late 14th century, but it was mostly destroyed in the 1528 seige.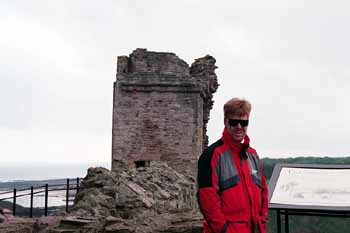 The staircases and passages in most of the walls were filled in by James V in 1528 to make the outer walls as solid as possible, to withstand artillery barrages. The west front of the tower was faced in a strange greenish stone, called Tufa, that was consdered less likely to splinter under cannon fire. The original gateway was filled in and only a small passageway remains. The greenish stone did not crumble as the red sandstone walls. Many of the passages and staircases have been cleared out by later restoration efforts. It makes for a strange walk -- a doorway suddenly ends in a wall of greenish, chalky stone, and rooms are bisected by additional walls that were added later.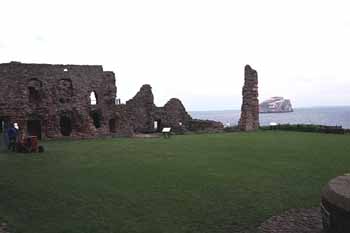 Tantallon
1 2 [ 3 ] 4

---

North Berwick
Lothian
3 miles east of North Berwick
on A198
Historic Scotland


---

l i n k s


---