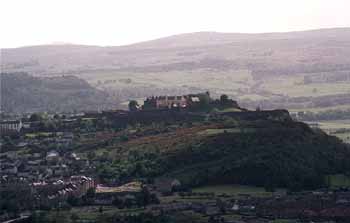 Stirling is considered one of the strongest and most impregnable castles in Scotland. It sits on a tall, rocky crag and is approached by a long, winding road (the Castle Wynd) through the old town.
Stirling, like most other large fortresses, began as a timbered and earthwork castle on this basalt outcrop. Alexander I (1107-24) built a chapel here. David I stayed at Stirling many times, and his grandson William the Lion died here in 1214. Nothing remains of these wooden buildings. The complex of stone structures is from the 15th century and later.
The earliest recorded casstle at Stirling was used by Malcolm Canmore in the 11th century. Stirling represented Scotland's military resistance to the English in the Middle Ages. It was siezed by Edward in 1296, recovered by Wallace in 1297, and then lost again to English hands in 1298. The scots retook Stirling in 1299 and held it until 1304.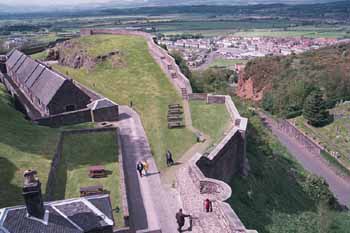 The great seige in 1304 saw the castle bombarded for four months by seige engines hurling lead balls (from nearby church roofs), greek fire, stone balls, and even some sort of gunpowder mixture. Under this attack, the garrison finally surrendered in July. The English held the castle until 1314, when it was yielded to the Scots after Bannockburn. Robert the Bruce had the castle slighted (dismantled), but it was rebuilt several times.
The castle served as a a permanent crown residence for the Stewarts. The oldest buildings are the gatehouse and two narrower entrances. The block is flanked by the Great Hall and also by substantial round towers, which would have had capped roofs when they were built, but were crenelated in the 18th century to conform with the idealized view of a castle.
James, infant son of Mary was baptised here in 1566, and then crowned there as James VI when he was 13 months old. Stirling's last military use was an attack by Bonnie Prince Charlie in 1745. The army finally left in 1964 after using the castle as a barracks since the Jacobite rebellion in 1745.