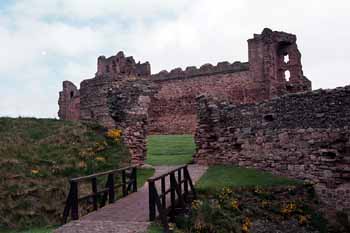 Tantallon is an impressive ruin. On a rocky promonotory on the Firth of Forth, the castle perches on the stone, with 100' cliffs that fall straight to the sea.
Tantallon originally belonged to the Earls of Fife in the 14th century, but little of the impressive front walls were built when it passed in 1360 to William, 1st Earl of Douglas. George Douglas, his son, became the first Earl of Angus, the first of the Red Douglases and married Mary, Robert II's daughter. James, the third Earl, used Tantallon to wage a vendetta against the other branch of his family.
Robert Stuart, the Earl of Menteith, became the Earl of Fife, Duke and Albany, and Regent of Scotland. His son, Murdoch, was regtent while James I was prisoner in England in 1419. In 1424 he was arrested at Doune and his duchess, Isabella, was taken to Tantallon as a prisoner.
Archibald, the 5th Earl hanged James IIIs favorites, and entered into a treasonous pact with England, which resulted in the attack on Tantallon by James IV. Archibald died in 1513, and his two sons were killed at Flodden Field. His grandson, Archibald, the 6th Earl of Angus married Margaret Tudor, widow of James IV and sister of Henry VIII. In 1528, he fled to Tantallong and was beseiged by James V with two large cannons. James V attacked Tantallon with 20,000 men, but the castle was the only one in private hands that was able to resist the King's artillery, and was itself equipped with guns. The gunloops and cannon holes are much larger here than in other scottish castles equipped with only musket holes. After 20 days, the king gave up. However, Douglas retired to England and the castle passed to the King.
When James V died, Angus took control of Tantallon once again. Archibald offered the castle to the English in 1543 but changed sides when the English desecrated Douglas tombs on their way to the castle. By 1558 it was reported devoid of furnishing and any accoutrements and was not inhabited. The 9th Earl died in 1591, the 10th in 1611. His son, WIlliam, became the Marquis of Douglas. Tantallon, apparently restored somewhat, was seized by covenanters in 1639. In 1651, Tantallon was attacked by General Monck on behalf of Cromwell, and surrendered after 12 days of bombardment by Monck's cannons. It was left to ruin after this, and eventually sold to the Dalrymples in 1699.
The castle was inhabited in the last century by a band of thieves. They entered the castle via a rope ladder and lived quite comfortably here by stealing provisions from nearby farms until they were discovered.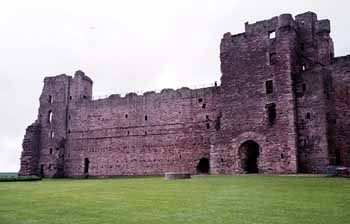 Tantallon
[ 1 ] 2 3 4

---

North Berwick
Lothian
3 miles east of North Berwick
on A198
Historic Scotland


---

l i n k s


---