Tantallon is a large 14th century courtyard castle. Built on a seacliff, it has a deep well (106 feet!) in the courtyard and the foundations of a sea gate, used for supplying the castle. Further earthworks form the outer bailey, which has a small stone gatehouse, and a 17th century doocot sits on the grounds. A ravelin, or triangular artillery earthwork, was constructed beyond the outer bailey, which is separated from the mainland by a 20' ditch.
Inside the ditch are the enormous battlement walls of dressed red stone. The remaining walls are over 50' tall and twelve feet thick. In the curtain wall is a central tower that contains the entrance, and on each end of the wall are the remains of towers on each end of the castle.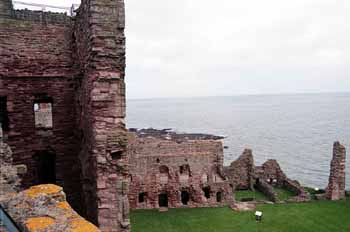 The main courtyard is enormous, roughly 70m x 44m. The north side is a block of apartments, the western portion is 14th century and contained an upper and lower hall. A third story was reduced to a loft when the hall was heightened. The other part of this building contained private rooms over a kitchen and bakehouses, added in the 16th century. The inner wall still shows the remains of beam-holes for a leanto building that ran around the entire interior of the castle courtyard.
The buildings forming the sides of the courtyard facing the sea have crumbled and fallen into the sea. In keeping with the warnings elsewhere, there are small signs warning visitors to keep clear of the cliffs -- but only a tiny wire fence keeping you from doing so!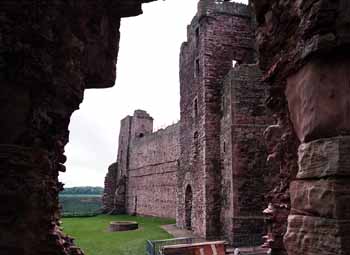 Tantallon
1 [ 2 ] 3 4

---

North Berwick
Lothian
3 miles east of North Berwick
on A198
Historic Scotland


---

l i n k s


---