I have these pictures labeled as "Waterford Cathedral" - THis is labelled as the Cathedral of the Most Holy Trinity., not the more populate Christ Church cathedral. It is Ireland's oldest Catholic cathedral., and the first one built after the Reformation. In fact, it is the olest cathedral in either Britain or Ireland.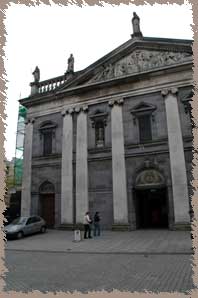 On the assumption that I did, indeed, attach the right label to things, the church was originally established in the 11th century and rebuilt in the 16th. The Normans build a Gothic chuech here in 1210 and it was expanded over the years. It was demolished and rebuilt as a Georgian cathedral . An interesting discovery was made of High Mass Vestments int he church when it was demolished.
This cathedral (like many other) was built on the demolished foundations of an earlier Gothic cathedral. The Cathedral fo the Host Holy Trinity was started in 1793 by John Roberts, a noted architect.
Christ Church Cathedral is a much more modern building - we didn't snap any pictures.