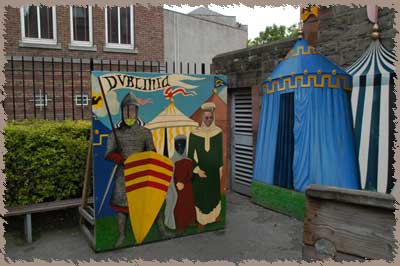 a rather inauspicious start to a very good exhibit about dublin
Just over the bridge from Christ Church Cathedral, the interactive "Dublinia" exhibit is a fun way to learn a bit of history about Dublin and its Viking roots. Mark was a bit tepid about the 'interactive experience' advertised by the site -- and it's a bit pricey -- but it was a lot of fun. They've taken over a lovely old building and put together a wonderful interactive museum about the history of the city, focusing on the Viking influence. I had a blast! And yes, there are pictures of me with my face in the cutouts...but I'm not showing you those!

The earliest settlement here was called Átha Cliath (the Ford of the Hurdles, because of the reed and wood 'sidewalks' necessary to walk along the marshy land to the city) -- the modern Irish name Baile Átha Cliath comes from this. But the city has a very interesting history betweem its earliest village and the modern vibrant city of Dublin.
One of the earlier names, Dublinn ('black pool') is the name of an early monastery founded here on the River Poddle (which, btw, no longer exists above ground -- the only sign of the river still in Dublin is under the foundations of Dublin Castle!). By the ninth century, the easy access to the river and the protected bay here brought the Vikings, who began a settlement here that they called Dyflinn (perhaps a mangling of the Diflinn name?). They expanded settlements here. By the Anglo-Norman invasions in the 12th century, the latin name of Dublinia was adopted.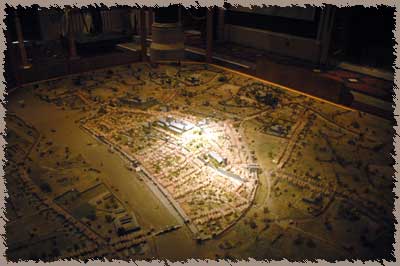 model of the city in 1500
The exhibit is rather fun -- lots of hands-on experiments, sound effects, displays, and information about the aerly city. In the summer, when tourists flock to Dublin, there are usually live actors inthe exhibit to demonstrate things and recreate the early cityscape.
Real artifacts are displayed with fun mock-ups to provide a fun afternoon exploring the old city. THere is a model of Dublin circa 1500, viking ships and history, reconstructions of Wood Quay, and examples of clothing, household items, and later life in the growing city.