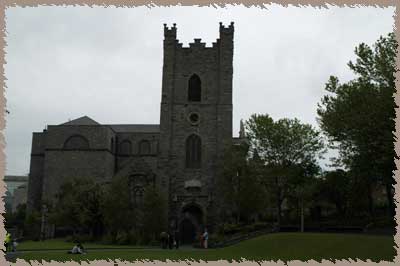 the tower of St. Audoen's Church, Dublin

Just down the street from Christchurch Cathedral, along a road called 'Fishamble Street" (at least at this particular junction), it crosses Audoen's lane, and at the bottom is one of the earliest gates to the medieval city of Dublin, and the medieval tower of St. Audoen's Church.
St. Audoen's is the only surviving medieval parish church, and is still in use for Sunday services. It is dedicated to St. Ouen. The tower dates from the 12th century, and the west door is from the 15th century. Inside the church are a number of tombs and a baptismal font dating from 1194. The Church was closed when we arrived, but we did poke around the old city gates a bit.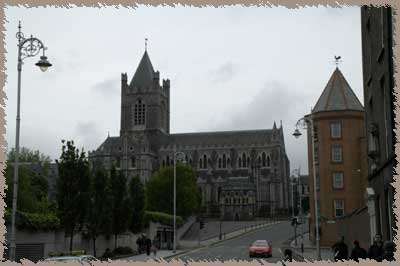 looking up the street from the church to CHristChurch cathedral