Pyramid of Maidum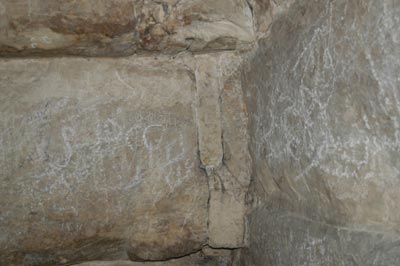 the interior of the burial chamber is covered in grafitti
Inside, the pyramid is covered in graffiti -- arabic, greek, english or french, from the early explorers. This si true at nearly every site we visited. For some reason, every early visitor felt it necessary to leave some mark on the face of the monuments. There are some recent grafitto, which at some level make me very angry. Defacing ancient monuments isn't something I can understand.
Of course, you can touch just about everything at the sites (including things in the museum, which shocked me), so it almost seems expected. They've cracked down on vandalism, of course, but it still occurs. We saw carvings on stones at the Great Pyramid from as recently as 2002.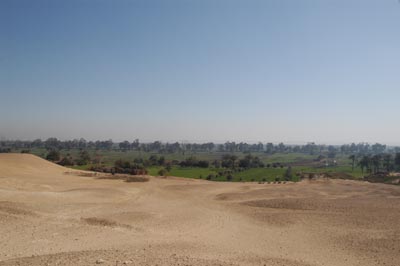 the view from the pyramid entrance, into the fayoum oasis
The views from the entrance to the pyramid show the demarkation of the desert and the lush oasis clearly. The green doesn't peter out as it reached into the desert...it just ends. Boom. LIke a line was drawn.
Nearby are the remains of mudbrick mastabas, and a tiny chapel on the side of the pyramid. There are impressive cemetaries surrounding the pyramid, with the mastabas nearby being created for Sneferu's sons and inmportant officials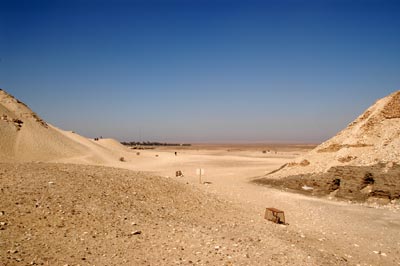 the maidum plateau, with mastabas and cemetaries