Pyramid of Maidum
Inside, the pyramid is spare and quite unlike the later internal structures. The narrow tunnel slopes down 57 meters into the pyramid, opening up into a limestone chamber with a corbelled roof that lies on the same level as the foundation of the pyramid.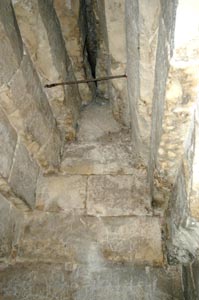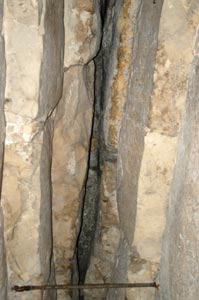 the corbelled ceiling of the chamber, with huge overlapping stones
Inside the pyramid, the corbelled chamber contains a number of cedar beams that were discovered inside. They have obviously been re-set into mortar in the existing holes in the walls, but we were assured that tey are the original "cedarwood of Lebanon" beams used in the construction.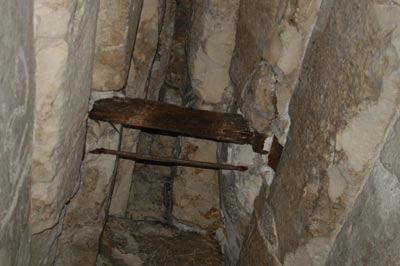 According to our guide, the beams were part of the portcullises and gates that were installed in the pyramid to stymie robbers. Like all the other precautions, they didn't work, but the impressive beams remain. We didn't see evidence of beams in any other pyramid -- indeed, all that remained were the holes in the walls where the huge gates would have been.