Old Winter Palace Hotel
The Old Winter Palace is a fabulous old pile on the corniche in Luxor -- it has fabulous gardens (and a dovecote on the grounds) and unbelievably luxurious sitting rooms and lobby. The rooms are, like in any old hotel, either huge, or teeny -- some have sitting rooms and balconies -- although most have been renovated and are very comfortable.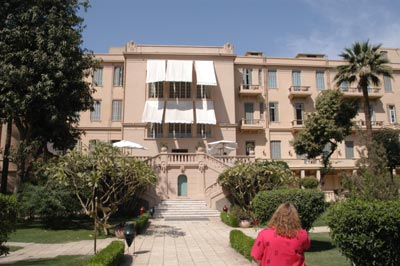 Our room had a huge balcony with reclining chairs and umbrellas, two single beds (most of our hotel rooms had twin beds) and an enormous marble bathroom. It was quite spiffy.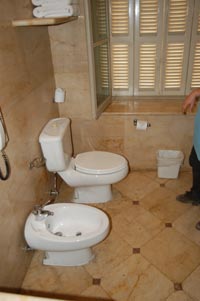 The hotel was built in 1868 for the nobility of Europe. King Farouk satyed here, French President George Clemenceau, Noel Coward, Agatha Christie. It is part of the charm of the hotel that the discovery of the tomb of Tutankhamun was announced on the bulltien board here -- Howard Carter was a regular guest. ens.
It is said that the Winter Palace had once been somewhat run down, but none of that is visible today, or even easy to believe. All is in perfect order, with modern fixtures necessary for comfort coexisting alongside antiques, fine wood and sand cast glass.
THere are a number of restaurants here, and breakfast is served in a lovely conservatory. We ate dinner at the buffet restaurant on the grounds (see the travelogue for the rendition of that dinner) and lounged about on the veranda in the afternoon sun. It was as close to feeling like royalty that I've ever felt. Room service was lovely, and the gentleman responsible for our room was there in an instant when we left to clean the room and take our laundry.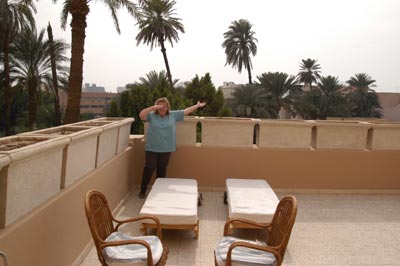 There is a "New" Winter Palace, too, but it is a box -- added in the 70s or so and a scary, sad looking place.