Luxor
The ancient city of Thebes lies along the Nile. It was the capital of the New Kingdom and the site of the most phenomenal tombs and temples in Egypt. Homer describes the city as the "city of a hundred gates" and the Arabs dubbed it el-Uqsur, "City of Palaces", which has been mangled to Luxor in English.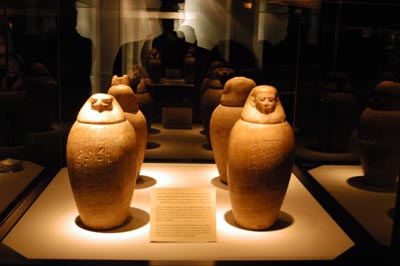 The city nestles in limestone cliffs, and became the center of the New Kingdom under Mentuhotep, who reunited Egypt and took it as his capital. Except for about two decades when Akhenateon moved the capital of his new religion to Amarna, Thebes remained the center of Egyptian life for centuries. The population of Thebes reached over a million people -- and it remains the most concentrated region of monuments and tombs in Egypt.
Thebes faded slowly by the time the Greeks and Romans ruled Egypt and the tombs and temples fell to ruin, taken over by Coptic christians and looted by every manner of tourist to the modern day. Still, the tombs in the Valley of the Kings contain art to rival any museum collection, and the vast, sprawling wreck of Karnak Temple is awe-inspiring. Other sites here include the Valley of the Queens, the Valley of the Nobles, and the very interesting Valley of the Artists which contains some of the most beautiful bas relief we saw in Egypt.
The west valley is the destination for nearly every tourist -- and well worth the visit. WIth the tombs in the valleys, there is also the gorgeous temple of Hathor built by Queen Hatshepsut, and the ruins of Medinet Habu and the Ramesseum.
Nearby is the enormous ruined temple of Amun, fronted by the Colossi of Memnon. In town, two museums are worth a visit -- the beautiful Luxor Museum and the small and macabre Mummification Museum. Luxor Temple lies in the middle of the corniche -- sunk below the ground level.
Luxor is definitely the major tourist location in Egypt, and sometimes it shows -- tons of touts, pushy salesmen, and very persistent felucca captains. But the city is lovely and the people are genuinely friendly. It is perhaps not as quiet as Aswan but the change from the bustle and crowding in Cairo to the long stretch of the corniche in Luxor is nice.